'HUGS'
HELPING UGANDA SCHOOLS (HUGS)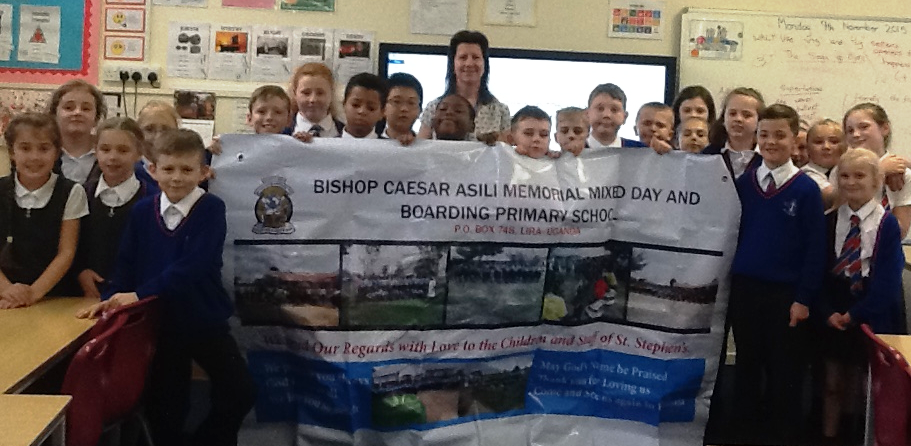 HUGS is a charity based in Stockport which raises money to help build and maintain schools in Uganda and Rwanda where, for a variety of reasons, children are often unable to go to school.
Last year, Year 5 held a cake sale to support the charity. The proceeds totalled over £200.
We are maintaining links with the charity and with the children of one of the schools in Africa. Years 5 & 6 are writing letters to the children of one of these schools and are looking forward to receiving replies.
Below is a letter sent to our children from our friends at Bishop Asili Memorial Day and Boarding Primary School.
Hello Children of St. Stephens School, We are writing to you from Bishop Asili Memorial Day and Boarding Primary School, sending you greetings from Uganda – the Pearl of Africa. Uganda is a beautiful country in terms of Physical features (high mountains, lakes, rivers and green valleys). The climate and the people are good and friendly. We have not less than 8 National parks and game reserves. Gorillas which are rarely seen elsewhere are the pride of Uganda in terms of tourists attraction. River Nile – the 2nd longest longest river in the world after River Missippi has its source in Uganda. All these explain why Uganda is called the 'Pearl of Africa'. Dear friends of St. Stephen School we invite you to come and see for yourselves. Our lovely School Bishop Asili memorial Day and Boarding School is found in the Northern part of Uganda, about 370 kms from Kampala (central) the Capital city of Uganda. We reported to school on the 16th February after long and lovely holidays well spent in the company of our family members. However we were eager to be back at school and meet one another, enter in our classes as we were all promoted to the next class and also to meet new class teachers. We have four major subjects; Mathematics, English, Social studies and Science. We also have Physical education as a co-curricular activity. We play netball, volleyball and football. For us here in Uganda, a child's life is dependent totally on the parents as far as welfare is concerned including education. At this time of the year, the weather is a bit warm and with a lot of wind. However we expect to get rain within this month of March. The good news is that just few metres from our primary school, the Missionary Sisters of Mary Mother of the Church (our founders) have started a Secondary School called Asili Girls Senior Secondary and Vocational School, wonderful to see. We would like to hear from you and to keep in touch with you. With love and blessings, Children of Bishop Asili Memorial Day and Boarding Primary School.